Home Learning Resources
Weekly Homework
Each week, children in Year 4 will be set two pieces of homework, usually one piece of English and one piece of Mathematics. Occasionally, children may be given a piece of homework related to a different subject or topic we are studying in class. A key focus for Year 4 is secure recall of times tables to 12 x 12 so a number of the Mathematics homework tasks will be related to this. English homework will usually be based on practising spelling, punctuation and grammar skills or completing a reading comprehension task. In addition to these pieces of homework, children are asked to practise spellings linked to the particular spelling rule they are learning about in class. They are also encouraged to carry out regular times table practice.
Enrichment Activities
Enrichment tasks will be set as part of each topic to encourage the children to work independently or with someone from home to create a piece of work to be proud of. We like to let the children choose how they would like to present their work, as this gives them the opportunity to be as creative as they would like. If you would like to use any art resources or if children need time in school to complete their task, please let us know.
Google Apps
Pupils are encouraged to use Google Apps for homework and to share information. Children can log in using their emoji passwords through Wonde.
Accelerated Reader
To further encourage 'Reading for Pleasure' we are using 'Accelerated Reader'. Children will need to read for 20 minutes at school, and 20 minutes at home each day and log their reading in their reading log books. On completion of a book children will take a short quiz on a computer at school to check their understanding of the book. Children are welcome to read their personal books from home - to check if there is an associated quiz please use the Accelerated Reader Book Find website here.
Purple Mash
We have access to Purple Mash, which is a resource for most of the curriculum areas. It has tools for children to practise their times tables, create documents for a topic as well as play games to learn French vocabulary. Children can log in using their emoji passwords through Wonde.
Spelling Frame
Spelling Frame is a free interactive website to practise and test spellings from the Key Stage 2 spelling curriculum. http://spellingframe.co.uk/
The Y3/4 curriculum spellings can be found here
Maths Frame
Maths Frame is a useful website with a variety of interactive maths games, printable worksheets and assessments. https://mathsframe.co.uk/
The 'Multiplication Tables Check' is particularly useful for children in Year 4.
This activity exactly mirrors the 'Multiplication Tables Check' that will be given to children at the end of Year 4. They are tested on their multiplication tables up to 12 x 12. There are twenty-five questions and children have six seconds to answer each question with three seconds between questions. The questions are generated randomly using the same rules as the 'Multiplication Tables Check'
https://mathsframe.co.uk/en/resources/resource/477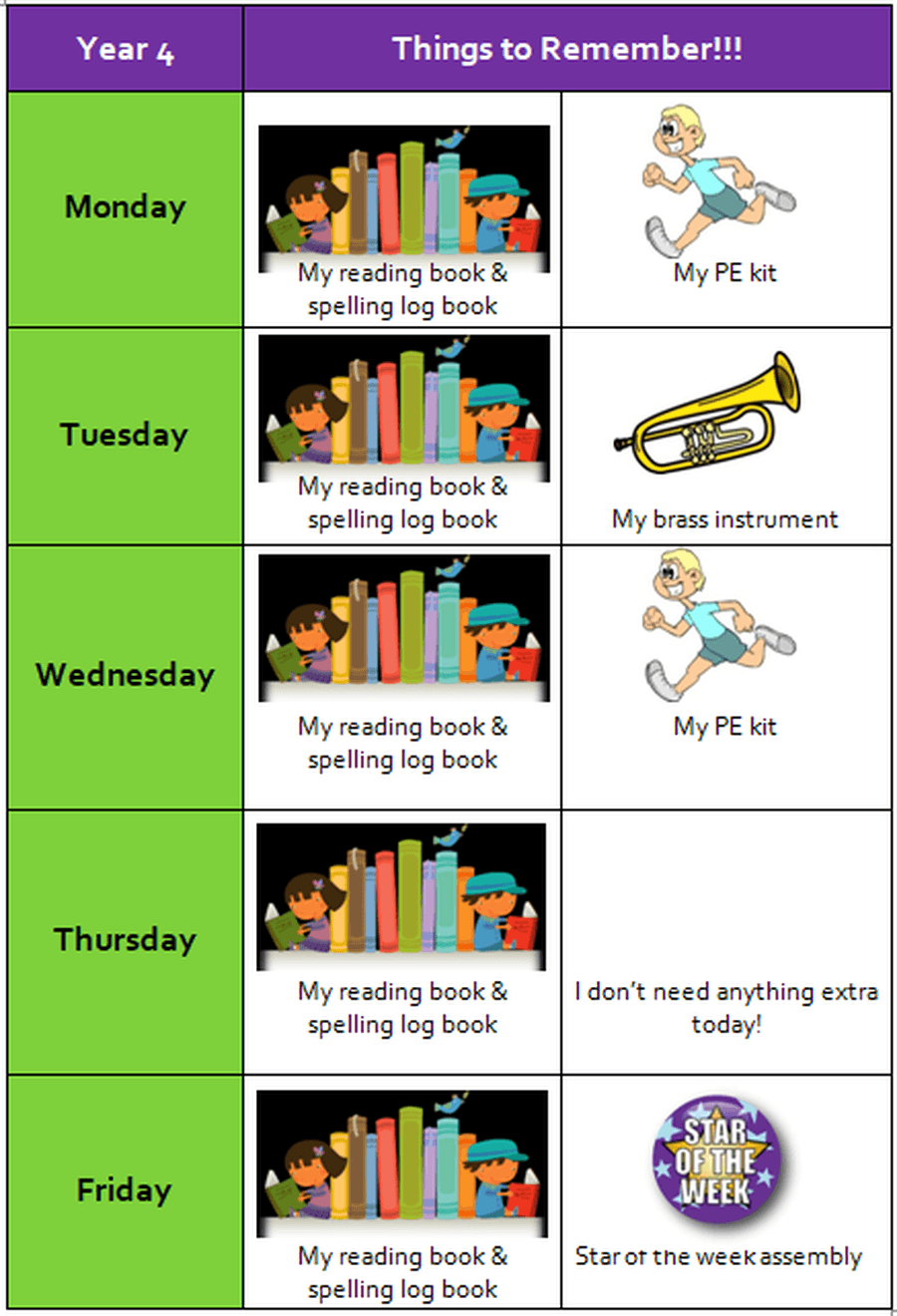 Important Notices
Our P.E. days are Mondays and Wednesdays.
On Mondays and Wednesdays, children will need their indoor / outdoor PE kit, including a white round neck t-shirt, black or green shorts and black pumps or trainers. Tracksuits may be worn during cold weather for outdoor PE lessons.
Please ensure that a full P.E. kit is in school each day in case of additional PE activities.
Brass lessons are on Tuesday afternoons. Please ensure that brass instruments are in school by Tuesday morning.
Reading books, reading log books/ journals and spelling log books must be brought into school every day.